Geneviève Paré
Co-Artistic Director of Mudfoot Theatre
​Performer, Writer and Producer of The Hudson Bay Epic and RIVER: A Puppet Myth
Geneviève Paré is in the practice and profession of building, shaping and performing live theatre. As an artist she is drawn to the rustic and abstract. She seeks out authenticity and finds it most frequently in movement and in nature. Geneviève is at odds with her deep sense of nostalgia, and is meanwhile motivated by the prospect that the future could be more romantic than the past. While gravitating towards the discarded, the androgynous, the natural and the lyrical, she resists and reasons with technology. Geneviève believe's that storytelling is essential in the construction, renewal, and celebration of collective identity.

Geneviève Paré has received a number of accolades as a performer, playwright and director including: Betty Mitchell Award for Most Outstanding Performance by an Actress in a Drama (Polygraph 2013), Stephen Hair Emerging Actor Award (Theatre Calgary 2013), Calgary Theatre Critics Award Nomination for Best New Script (The Hudson Bay Epic 2015), Nomination for Best Staging at the Dublin International Gay Theatre Festival (My Funny Valentine 2012)

Ian McFarlane
Co-Artistic Director of Mudfoot Theatre
​Performer, Writer and Producer of The Hudson Bay Epic and RIVER: A Puppet Myth
| | |
| --- | --- |
| I am a multifaceted theatre artist. I have a fierce fascination with the discarded, the misplaced, and the forgotten. These fascinations have driven me into a study of object-oriented performance, a practice that revolves around the complicated dialogue between subject and object, between human and non-human. My obsession is with puppets, or rather, anything that can be given life through animation. I received a BFA in Multidisciplinary from the University of Lethbridge in 2010. Since then I have occupied Calgary, Alberta, where my practice has encompassed performance, scenic design, devised theatre, painting and puppetry. I have trained with One Yellow Rabbit Performance Theatre and The Old Trout Puppet Workshop, as well as have been a contributing ensemble member of Swallow-a-bicycle Theatre and Bread and Puppet Theater. I am currently pursuing my MFA in Contemporary Arts, Interdisciplinary Studies at Simon Fraser University. | |
Lindsey Zess-Funk
Director and Dramaturge of The Hudson Bay Epic and ​RIVER: A Puppet Myth
| | |
| --- | --- |
| | Lindsey Zess-Funk is a Calgarian director, designer, mask maker, puppeteer, and drama educator. She holds an MFA in Directing from University of Calgary and a BFA in Performance from the University of Lethbridge. Lindsey's theatrical obsessions include gender, myth, and animated objects. She is passionate about cultural storytelling, sustainable living, and theatre magic. Recent projects include Legoland (Urban Curvz Theatre) Routes and The Kitchen Witches (New West Theatre), i-ROBOT (Swallow-a-Bicycle) FUGLY (The Janes), The Hudson Bay Epic and River (Mudfoot Theatre). |
Lane Shordee
Designer of The Hudson Bay Epic and RIVER: A Puppet Myth
| | |
| --- | --- |
| Lane is a scavenger artist based in Calgary, Alberta. Drawing from construction waste and items found by happenstance, he builds elegant sculptures and installations that both challenge and indulge our relationships with the things we throw away. Lane mines the immediate surplus of materials available, and, informed by his environment, reframes it into cohesive structures, allowing its presumed worth to be re-evaluated. In the same way the term "scavenger" traditionally holds a derogatory connotation, through new perspective, it can become something of considerable merit and nobility. His process is of an organic and sometimes comical nature that toys with semiotics, functional aesthetics, and happy coincidence – shapes and forms are left to chance or whimsy. It is this playful flexibility that grants each piece an inherent naivety and warm charm. Works begin as sketched schematics which are fleshed out and assembled from objects on hand, objects he can construct, and objects he must seek out. He maintains a steady cache of lost and found objects to be adjudicated and reworked. Embracing shift and impermanence, Lane abides by the notion that we live in a cultural mash-up of ideas rooted to all parts of history – as with memory, each idea becomes new with every attempt to access and re-create it. As such, materials are engaged in a dialogue-of-bricolage, and a collaboration ensues, informed by space, ecology, and the history of the engaged article. Recovered items are respected and regarded as a natural urban resource, and thus reclaimed as artful by-products of by-products – in effect, a dissemination of our individual ideas of consumption and waste. | |
Ryan Reese
Performer in The Hudson Bay Epic
| | |
| --- | --- |
| | Ryan is a born and raised Calgary theatre artist. He graduated from the University of Lethbridge in 2013 with a degree in performance, during which he served as the Co-Artistic Director of TheatreXtra, a student operated theatre company. Since graduating, Ryan has been active in the Alberta theatre scene as an actor and playwright. He has worked with such companies as New West Theatre, Evergreen Theatre, and Theatre Outre'. As a playwright, Ryan has won the Alberta Playwriting Competition back to back for his plays Ascending the Blue (2013) and Before the Night Takes Us (2014). Most recently, He was appointed the Artistic Producer of Theatre BSMT, where he continues his fierce support of new Canadian work and opportunities for emerging artists. Ryan is also the drummer for Calgary indie rock band The Left Behinds. |
​
Jesse Plessis
Musical Advisor and Composer of The Hudson Bay Epic and ​RIVER: A Puppet Myth
Pianist and composer Jesse Plessis obtained a Master of Music degree (Performance and Literature) in 2013 from Brandon University where he studied piano with Megumi Masaki and composition with Patrick Carrabre. His Bachelor of Music degree is from the University of Lethbridge where he studied piano with Deanna Oye and composition with Arlan Schultz and Rolf Boon. Additional studies followed with Hardy Rittner at the Banff Centre and Norma Fisher at the London Masterclasses.

Plessis is a founding member of the Centric Festival - a (mostly) classical music festival held in Lethbridge, Alberta which had it's second edition in October 2014. Describe as having a "deft hand at crafting textures that pulse with life" (Winnipeg Free Press) he has been awarded prizes both in piano and composition and has performed as a guest artist with several ensembles including the Musaeus String Quartet, members of the Land's End Chamber Ensemble, and the International Piano Ensemble. He has had the opportunity to give the Canadian premieres of works by Marcel Bergmann, Kaija Saariaho, John Corigliano, Nico Muhly, andKjartan Olafsson. He has performed across Canada and Europe - recent performances include those with New West Theatre, at theCasalmaggiore Festival in Italy, the Dark Music Days Festival in Iceland, and at the Banff Centre. In addition to his activities as a performer, Plessis is a committed educator: he has been on faculty at the University of Lethbridge and gives masterclasses and private lessons regularly. A sometime conductor, Plessis has directed performances with the Brandon University New Music Ensemble, the Brandon University Orchestra, and several musical theatre productions.


Ali DeRegt
Performer in RIVER: A Puppet Myth
| | |
| --- | --- |
| | Ali DeRegt is a Calgary based performer specializing in Voice Overs, Clown and Puppetry. She received her Bachelors in Fine Arts from the University of Lethbridge in 2012. Since university she has continued her training in performance with members of The Old Trouts and Mump & Smoot. Select theatre credits include Morpheus Theatre's I Hate Hamlet, Pape and Taper's Goblin Market, and Sage Theatre's Wihtiko. Most recent voice over credits include Future Card Buddyfight, Little Battlers eXperience, and Cardfight!! Vanguard G. |
Powered by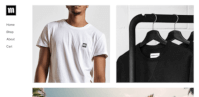 Create your own unique website with customizable templates.